Our most recent projects were to participate with the Walk to END Alzheimer's. We had a great turnout especially considering the social distancing requirement due to COVID.
The other key project we have participated with over many years has been supporting the Lighthouse of the Blind. Our Club has worked with organization for over ninety years.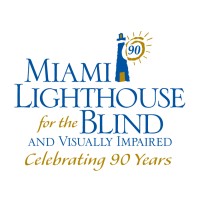 PRIOR YEARS PROJECTS
To give an idea of some of the other volunteer activities we are involved with, here are some of our recent projects that we continue to participate in as the needs arise:
Safe Space (North)
Safe Space is a county-run, temporary shelter for women and children removed from abusive homes. The Rotary Club of Miami, with help from our Interact and Rotaract Clubs, converted an unused space at the shelter into a fully equipped space that is now used as a resource and job center for the women living at the shelter. Our volunteers painted the area in a color scheme designed by one of our members, a professional interior designer. Materials and labor were provided by club members with an especially generous contribution of desks, chairs, PCs and printers.
School Supplies for Students at Holmes Elementary School
The Rotary Club of Miami collected 1,355 items including pencils, pens, paper, composition books, and other school supplies for children that otherwise would not have had them. Helping children be prepared for school is one way to contribute to their educational success.
Stuffed Animal Collection for Children at Carver Elementary School
We collected and gift wrapped 150 stuffed animals to present as holiday gifts to 5 classrooms of kindergartners. The kids were thrilled!
Holiday Food Baskets
Our club contributed food baskets for 10 families during the winter holidays. This project was coordinated through Greater Miami Legal Services by one of our members that is a patent and trademark attorney.
Coastal Clean-Up
Members, family and friends gathered to participate in the Coastal Cleanup at Virginia Key Beach. We look forward to future efforts to restore this historically significant area.
Habitat for Humanity
The Rotary Club of Miami has participated in several build-outs with volunteers and money. The satisfaction of seeing quality housing replace vacant lots and substandard housing is tremendous. As the opportunities arise, we will participate in future build-outs.
Lighthouse for the Blind
Our club's relationship with Lighthouse dates back to 1926 with three major projects to expand and improve the facility in the mid-1920's, mid-1940's and early-2000's.